DEE Phonebox Magazine September 2013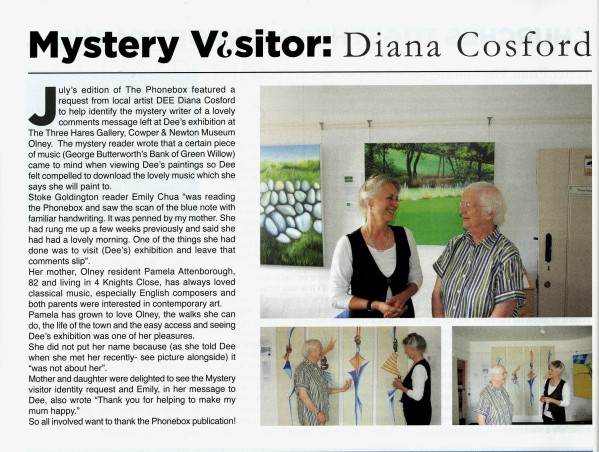 DEE's picture 'Genes Matter' donated to the national silent auction for 'Niamh's Next Step'


DEE's picture 'Genes Matter' which she donated to the national silent auction for 'Niamh's Next Step' was won by two other guests at the Gala Dinner Dance recently. They are researchers at the Medical Research Council and over the last few years have been helping design a new biomedical institute, along with Cancer Research UK , at St Pancras. This will be the Francis Crick Institute - named after the British co-discoverer of the structure of DNA.

Kathleen said it would be fitting to hang it in her new office there.... where she quoted "Genes really DO Matter", the dedication she also asked DEE to add when personally signing the print which was the first of a limited run of 100 canvas prints in the same size as the original.

Dee said that it was an exciting auction as it was not possible to know where the bidders were. It was achieved remotely via iPads & mobile phones & she could see on the overhead screens that her picture was gaining interest closely following famous sports personality signed memorabilia, her picture finally raising over £400 for the charity she supports.

"To know that it will be displayed at such an innovative Institute where progress may be made towards discovering treatment and help with this awful disease afflicting small children is", she says, "a real privilege."

DEE Phonebox Magazine July 2013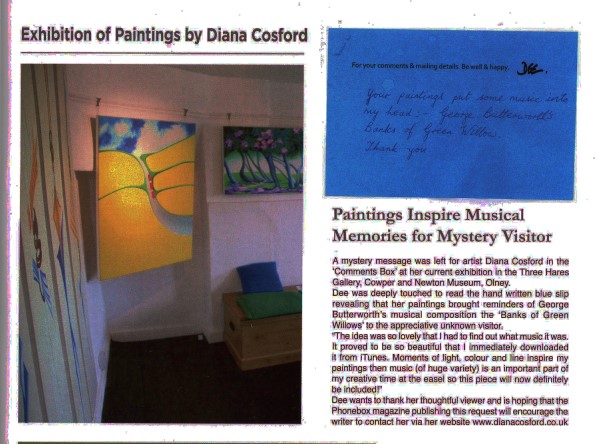 DEE's limited run First Print raises funds for Children's Charity 'Niamh's Next Step'

Thrilled that my first print (limited 1/00) of 'Genes Matter' achieved over £400 in the Blind A uction for the charity Niamh's Next Step at their Gala Dinner & Ball A ugust 3rd 2013

It was also a privilege to meet the lovely purchasers of my picture, two London scientists whose work includes research on genes.

Best wishes to them and A LL the organisers of the very special & emotional event for those attending, with moments of reflection, sadness, happiness and hope, all inspired by the little girl, Niamh who suffered from the dreadful children's cancer Neuroblaoma.

DEE

William Cowper gallery.


My exhibition at The Tree Hares Gallery, Cowper & Newton Museum , Olney, Buckinghamshire has just ended.

It was a lovely space with a unique light and atmosphere where I believe my vibrant colours would have lifted the spirits of the famous poet William Cowper if he were alive today to see them.




Charity Auction Saturday 3rd August

DEE has donated 'GENES MATTER', the FIRST of her Limited Print run of 100
(Giclee, gallery mounted print 940mm x 940mm of her oils on canvas original)

It's an exciting but simple process...

Click Here to watch the Bidding or to Bid yourself

To help other children and families fighting Neuroblastoma

Niamh's Next Step is a Registered Charity Number 1150081.

It will be part of the live Silent Auction at the

CHARITY GALA DINNER this Saturday !!!!!!

ALL proceeds from the sale of DEE 's picture go to the charity.

Hoping to help... thank you. DEE
OLNEY EXHIBITION EXTENDED until SUNDAY 4th AUGUST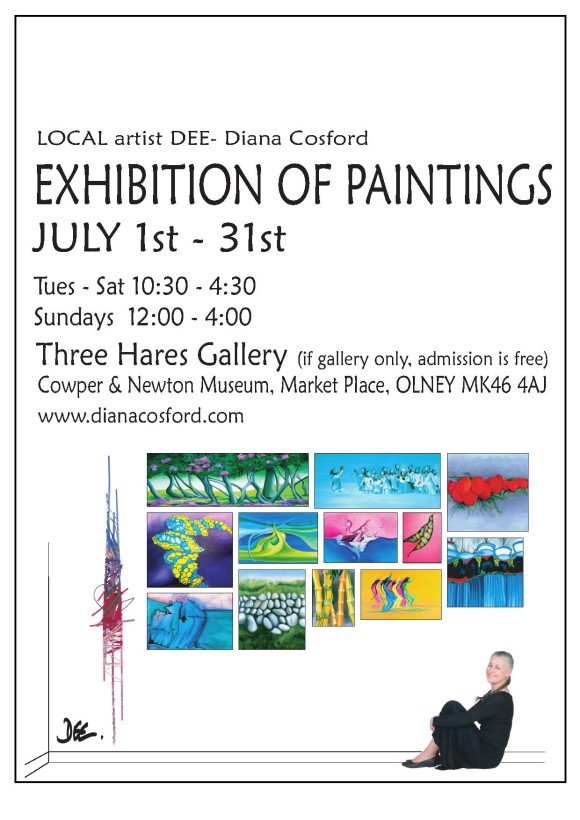 Currently Exhibiting
DEE is currently exhibiting until Sunday 4th August - See details below
Bazil & Dee at Book Launch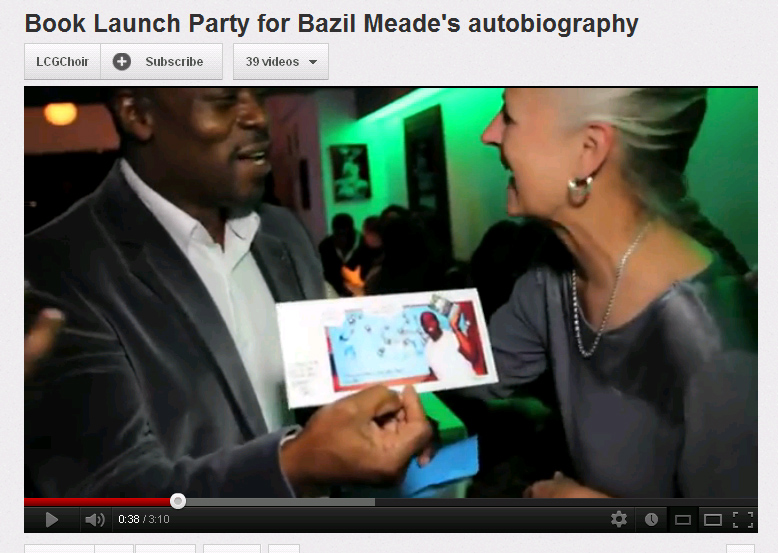 "Rhododendrons Come Early to High Head Sculpture Valley"
Rhododendrons Come Early to High Head Sculpture Valley
Another development from the publicity re: The Wound
"Art gallery, Yew Tree Barn, at Low Newton, Cumbria www.yewtreebarn.co.uk has asked DEE to display her picture until it is presented to the department that the NHS nominate.
It's already generated much interest from people who have had abdominal (or other) surgery & is quite a talking point.
DEE says that she'll be really happy if her picture provokes a more thoughtful approach for the physical & emotional well being of patients at the time of their operation & then their subsequent aftercare. What started out as a personal reminder is something, she realises, that others have much empathy with. She has also discovered that her depiction of The Wound is being seen as both shocking & beautiful at the same time!
So if you'd like to see it for real… before the NHS claim it… the "Yew Tree Barn Gallery" is where you'll find it!"


"Dee on the BBC"
Dee makes an impact at the BBC
"Artist paints appendix scar for NHS"
"The Westmoreland Gazette"
Click Logo to read article in The Westmorland Gazette.
"ARTIST'S GIFT for NHS 60th ANNIVERSARY"
Celebrating the 60th Anniversary of the NHS, artist DEE (Diana Cosford) wants to present the service with one of her paintings entitled "The Wound".

Dee appreciates & values the existence of the NHS but her painting was an outlet for her frustration with the aftercare of her emergency Appendectomy operation. Asking to be forgiven the pun DEE says "It could be argued that I literally was (& also wasn't) 'stitched up' by the surgeon! I'm obviously grateful that he may have saved my life but he then simply went on holiday halfway through leaving his registrar to complete the job. Unfortunately his action resulted in an ugly (medically termed 'bunched') repair, with much discomfort & scarring which remains almost 3 years later!"

DEE has 'patiently' and discreetly used the 'Complaints' system hoping to achieve the corrective surgery that 3 different surgeons, (including the one who first operated) recommended after she was referred to them by several departments of the NHS.

Their expert diagnosis has been ignored by the PCT, Primary Care Trust which has, to date, decreed that DEE apparently does not meet their criteria of being: 1) Under 18 years of age, 2) Obese or 3) Clinically depressed. DEE says she felt very close to the third category until she painted "The Wound" for which she used some photographs taken shortly after the operation and others more recently. "The Complaints system has been horrendously inadequate & misguiding & seems to have little influence or role to play unless you actually want to sue.

Apart from the initial problem which was, in DEE's opinion, "a pretty botched job that anyone who's done any sewing would be ashamed of", she feels really let down by the PCT & Complaints system which has bandied her about so much. "Perhaps showing them this image, more attractive than the reality, they'll notice" DEE hopes.

At the moment DEE's not quite sure who, in the NHS, will receive her gift & she welcomes applicants who feel deserving, to get in touch with her!


"Sport Relief - Thanks to all"
"Sport Relief - Rise To The Challenge"
"Caribbean waters created in Lakes"
A spontaneous rehearsal of the London Community Gospel Choir, in the cooling sea off Montserrat in the Caribbean, was the inspiration for a painting by Lake District artist DEE (Diana Cosford) resulting in a special one day trip from London to the Lakes by the founder and leader of the choir, Reverend Bazil Meade.
Reverend Meade had only seen an emailed image of the picture but was so determined to meet DEE that he fitted the trip in last week between a very busy schedule of concerts the choir (featured on the sound track of Lion King & Love Actually) are performing around the world.

Reverend Meade said that as he "rounded the corner of the gallery", (The Gincase, Mawbray Hayrigg) where DEE currently has a solo exhibition and saw the actual picture for the first time he "was thrilled with the sight" and was "really moved by the unique way DEE captured the feel of the occasion"
| | |
| --- | --- |
| | Dee tells us "My meeting with Reverend Meade was incredible. When I painted Unison it was a two dimensional image but I could sense the fantastic voices of the choir. It was truly exciting to share with Bazil how special the actual occasion had been. He was so animated recognising the individuals within the picture and very excited with how I had captured their characters just in the attitude of their poses". |
| | |
| --- | --- |
| 'Unison ' ... original oil painting on canvas 1500 x 720 (5' x 2'9") is Dee's interpretation of the choir rehearsing in the sea to keep cool when they made a support visit to the volcano-hit island which is also the birth place to Reverend Meade. The entire choir are really keen to see the full size print on canvas which will be the focal point of their London offices. | |